The Philadelphia Eagles are at a crossroads. This is the first time the organization's own pick has been in the top 10 since 2013 (the Eagles original pick in 2016 was 13th, they traded up from 13, to 8, and to 2). The Doug Pederson and Carson Wentz show is no more. Their roster is expensive and aging. There is a new era in Philadelphia and it is essential that Howie Roseman and company establish a solid foundation for this 'new era' to have immediate and future success. Let's draft:
*Official Compensatory Picks have not been announced yet*
Round 1, Pick 6: TE Kyle Pitts, Florida
Kyle Pitts is a polarizing name amongst Eagles fans. Some view him as not being worth the 6th overall pick, some view him as just a tight end, and others see him as a sort of, 'can't miss' type of prospect. Most of the obscureness with Eagles fans when it pertains to Pitts comes from the possibility that Ja'Maar Chase will still be on the board when the Eagles pick. However, as things currently stand, that's seeming more and more unlikely by the day.
Pitts is a weapon. He can line up in the slot, at the X, or at the traditional in-line or H-back tight end alignment. Pitts is a savvy and technical route runner who possesses unique quickness. Pitts' ability as a mismatch is evident from the moment you turn on the film. It is that which distinguishes him from being 'just a tight end'. The guy can do it all. He has a nuanced route tree made up of great footwork, understanding of leverage, quickness, and a massive catch radius. He's a physically imposing player at 6'6 240 pounds who flat out dominates opposing defenders.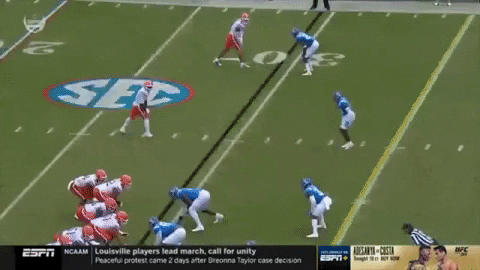 There are 4 main keys that Pitts checks off that make him the likely pick at 6 for the Eagles:
He has a connection to the organization – His former offensive coordinator at Florida is the team's QB coach.
He fits the build for what new head coach Nick Sirianni is predicated on – creating and exploiting mismatches.
He syncs up with Jalen Hurts' skillset as a passer – Hurts best trait as a passer is the touch he puts on his throws. He also excels at back shoulder/down the sideline style throws. Pitts has shown time and time again that he can use his huge frame to box out cornerbacks and make contested catches.
Pitts is from Philadelphia
Round 2, Pick 37: IOL Creed Humphrey, Oklahoma
I know exactly what you're thinking — "why would the Eagles take a center?" — before you click off, hear me out.
Creed Humphrey is arguably the best center in this draft. He is experienced, having played over 1,200 snaps at Oklahoma. Humphrey has been stout in protection, allowing just 28 pressures and 0 sacks in 3 years. With the Eagles, there is the unknown on the Jason Kelce front, combined with all of the injuries suffered by the offensive line as a whole in 2020, and the fact that we know the trenches are at the top of the line when it comes to Howie Roseman's team building philosophy (keep in mind, the Eagles also did heavy background work into Cesar Ruiz last draft). Creed Humphrey makes all the sense in the world.
In run blocking, Humphrey is at his best when he's able to move vertically. He can literally drive the opposing defenders 10-12 yards down the field. In pass blocking, Humphrey is like a pitbull. Once he gets his hands on you, there is no release until the whistle blows.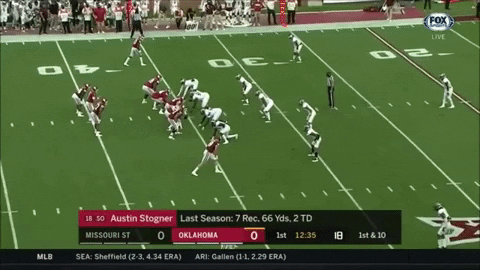 Humphrey, at 6'5 327 pounds, isn't limited to just one position. He played tackle in high school and played some guard in his 3 years at Oklahoma. Humphrey is a technician as both a pass blocker and run blocker. He has strong and violent hands. His punching ability is among the top of the interior offensive linemen in the class.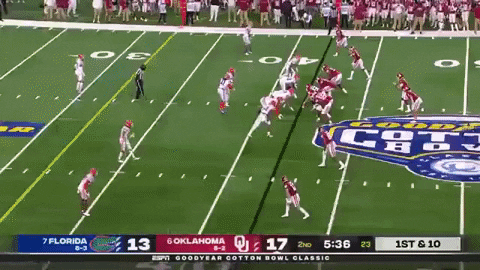 Another glaring point in favor of a potential Creed Humphrey selection for the Eagles is the fact that he also has a connection to the organization: Jalen Hurts and Humphrey were teammates at Oklahoma in 2019.
"He's a guy that has a great work ethic, he has these natural leadership abilities that are hard to find in a lot of people," Humphrey said on Hurts in an interview on the 3 Man Front podcast.
Humphrey would secure the center spot for years to come and also allow Isaac Seumalo to remain at his left guard spot.
Round 3, Pick 70: CB Kelvin Joseph, Kentucky
The Eagles break normality and get a cornerback over 5'11 (outside of Darius Slay). Joseph displays great athleticism and speed on the outside. At 6'1 192 pounds, Joseph has the size to fit Jonathan Gannon's cover 2 scheme. He's a long and fluid cornerback who excels when he's allowed to be aggressive and physical at the line of scrimmage.
Joseph has only one year of starting experience at the college level under his belt. Joseph also played in 6 games in 2018 but wasn't a starter and sat out in 2019 due to NCAA transfer portal rules. That could be looked at as a knock on him, but his production in that one year says otherwise. Joseph displayed good ball skills and physicality as a tackler amassing 4 interceptions and a single pass defended through 9 games. This includes a 2020 matchup with Alabama in which Joseph was only targeted 3 times, allowing 0 completions and forcing 2 incompletions and snagging an interception.
With the Eagles, Joseph would step into an immediate starter role, opposite Darius Slay. Jonathan Gannon's system would give Joseph the ability to play within himself and do the things he excels at — being physical at the line and running with receivers. Joseph would also get to learn from one of the top corners in the NFL in Darius Slay, who has similar measurables to Joseph.
Round 3, Pick 85: LB Cameron McGrone, Michigan
Cam McGrone is a very physically and athletically sound linebacker. McGrone is a fast processing, see ball-get ball style of linebacker. McGrone is an aggressive fundamentally sound tackler, who displayed elite esque closing speed in his 2 years at Michigan. McGrone racked up 91 total tackles (11.5 of which were for a loss).
McGrone displayed good range and explosiveness as both a run defender and in the limited coverage snaps he did play. McGrone is very raw in coverage, but as stated, he has the physical attributes to improve. McGrone makes his money as a blitzer when he's allowed to run and chase. McGrone's 6'1 232 pound frame is the prototypical size for an NFL middle linebacker.
If McGrone is the pick, Jonathan Gannon and Nick Rallis will have a chance to mold McGrone into something special.
Round 5, pick 134: DE Janarius Robinson, Florida State
Janarius Robinson is an incredibly experienced defensive end, having played 34 career games in 4 years at Florida State. Robinson is an extremely raw player who wins more with length and strength than technique. Robinson amassed 104 total tackles, 20.5 sacks, and 8 sacks over a 4 year period.
As stated, Robinson is a bit raw as a pass rusher, but there are flashes at times. Specifically, with his hand usage. Robinson plays with heavy hands and is able to drive offensive linemen back due to his length and power. Robinson possesses an 87″ wingspan and at 17-years-old, Robinson bench pressed 350 pounds and power cleaned 330 pounds.
The issues arise with Robinson in terms of his awareness and pad level as a run defender. He struggles to string moves together to beat offensive linemen. Once he gets stonewalled, he kind of gets lost on plays. But, Robinson has the intangibles, those being the size and length combination. Eagles new defensive line coach, Tracy Rocker has the reputation of a talent developer, having developed 15 players into NFL draft picks including, Dee Ford and DeMarcus Ware.
The last time the Eagles drafted a defensive end from Florida State (Josh Sweat), it worked out fine. This time around the result could be similar, if not better.
Round 5, pick 140: CB/S Kary Vincent Jr, LSU
Kary Vincent is a 5'10 190 pound defensive back. Vincent rotated between single high safety and nickel corner in 3 years at LSU. Vincent displayed great deep speed and high level ball skills. After playing 4 games in his freshman year, Vincent played in majority of games at LSU in his next two seasons (13-2018, 15-2019). Vincent Jr finished with 6 interceptions and 15 passes defended over 3 years. He was never a full-time starter. Nevertheless, Vincent has all the intangibles to be a viable player at the next level.
As stated, Vincent Jr. rotated between nickel corner and post safety during his time at LSU. The LSU product is an instinctual and rangy defender on the back end. Vincent Jr. is a bit undersized and lacks fundamental tackling technique at times. With Rodney McLeod possibly on his last legs in Philadelphia, Vincent can learn under McLeod for a year or two. Both defensive backs share similar measurables and Vincent fits the mold for a rangy safety in Jonathan Gannon's cover 2 scheme, while also offering some positional versatility.
Round 5, pick 165: WR Jaelon Darden, North Texas
One word: EXPLOSIVE,
Jaelon Darden scored 19 touchdowns in 9 games in 2020. Darden is a firecracker with the ball in his hands. Darden excels on screen passes and downfield targets. Darden has the ability to flat out blow past defenders and is a threat to score whenever he touches the ball. The main drawback with Darden is his incredibly small stature. At 5'9 170 pounds, Darden may solely be a complementary gadget type of player at the next level. Drafting a player like Darden is a high risk, high reward type of move. If he doesn't work out, it blows up in your face and you've wasted a draft pick, but if it works, you look like a genius.
With Darden, the coaching staff would have to have a plan on how to use him. Luckily for Philadelphia, drafting Darden would further the Nick Sirianni's philosophy of getting his playmakers the ball in space because Darden excels with the ball in his hands.
Round 6, pick 198: OL Royce Newman, Ole Miss
Newman is a versatile offensive lineman who has played both tackle and guard. Newman played 768 snaps at left guard, 141 at right guard, and started at right tackle during the 2020 season.
The Nashville, Illinois product is an offensive lineman who is athletic with good size, but he lacks length and technically sound fundamentals. With the Eagles Newman would be a depth piece in his first few years, with swing tackle upside in the future.
Round 6, pick 220: LB Garrett Wallow, TCU
Wallow is a converted safety who has played linebacker for the last 3 years. Reading that, I know what you're thinking —another Nate Gerry— but Garret Wallow is far from it. In his 3 years at linebacker, Wallow ranked in the top 3 in tackles in the Big 12.
Wallow is a gap penetrator who isn't afraid of contact. He sees the ball and goes after the ball. Overall, Wallow's best quality is his athleticism. He's has enough fluidness in his game to be sufficient in coverage (man or zone). Wallow projects as a core special teams player with some WILL linebacker upside.
Round 7, pick 228: RB Deon Jackson, Duke
Deon Jackson is a two way threat. Jackson is effective running the ball or catching the ball. Jackson finished his 4 year career at Duke with 2,267 yards and 18 touchdowns on the ground, along with 534 yards and 4 touchdowns through the air. Jackson is a North-South runner with upside as a number 3 back in committee. Jackson is a powerful between the tackles back who runs hard. Jackson lacks any standout elite level trait, but he is a consistent runner who'd be a nice change of pace style back.
Photo Credit: Philadelphia Eagles Twitter Account